buzzard.ups.edu
Rob Beezer's Home Page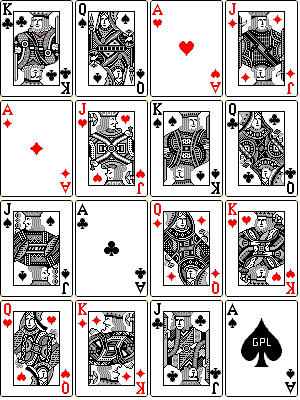 Welcome to Rob Beezer's home page. The layout of playing cards to the right is a depiction of a Graeco-Latin square of order 4 - an interesting combinatorial object.
I am a Professor in the Mathematics and Computer Science Department at the University of Puget Sound. Lately I've been teaching calculus, algebra (linear and abstract), combinatorics and cryptography. My research interests are primarily in graph theory (especially regular graphs and algebraic graph theory), but I am also interested in combinatorics as a whole. I've been busy the past few years writing an open content linear algebra textbook, helping out with an open content abstract algebra textbook, assisting with a large construction project, and becoming ever more involved with Sage, powerful open source software for advanced mathematics. A lot of my time currently goes to developing an authoring system for technical documents, MathBook XML.
In the good old days of home page design, a large photograph of yourself was de rigueur, but now it seems out of fashion, so I have removed mine. But if you are curious anyway, have a look.
Here is a free trial of Sage, the open source software for advanced mathematics. Experiment with the demonstrations. Then grab a copy of the quick reference and try some new computations of your own. If you decide to buy, that is free too.
3D plot requires Java to run the viewer. Grab plot with mouse to rotate.
Grab the slider to change the degree of the approximating polynomial.
Reactivate if idle for more than one minute.
Office: Thompson 303
Office Hours, Fall 2019
Monday, Friday: 9:00 AM - 9:50 AM
Tuesday, Thursday: 8:00 AM - 8:20 AM
Tuesday, Thursday: 9:30 AM - 9:50 AM
and by appointment

BEEZER[at]UPS[dot]EDU
PGP
/
GPG
public key
Voice: (253) 879-3564
FAX: (253) 879-3352